Donald & Robin Poteat Take the win on Lake Murray
Don & Robin Poteat took first place with a winning limit of five fish weighing 17.87 lbs. Don is a returning angler after many years away. And this was Robin Poteat's very first tournament. What a way to get started! Welcome back Don! It's was great seeing you again and meeting Robin.
Joe Anders & Shianne Parker Take the win on Lake Keowee
It was a beautiful day to be on the water and recharge our batteries with nature and good friends. The day started out a little differently on Lake Keowee with everyone concerned about how the Coronavirus is going to affect their loved one, jobs and financial health. Getting on the water is one of the best ways to get-away and forget your worries for a few hours. That is just what 25 couples did on Lake Keowee this weekend. Of course, it wasn't business as usual. We all took time to catch-up with friends we hadn't seen in a while and still keep our distance from each other. The field caught and released a total of 117 bass weighing in at 246.44 lbs. Thanks again to our couples for the great fish care allowing for the 100% release rate.
John & Donna Branstetter Take the Win on Lake Greenwood
We had another chilly start for the South Carolina's Lake Greenwood tournament on March 7, 2020. But that didn't hold back the 19 couples or the bass from participating. Even with the muddy water and chilly conditions our couples brought 63 bass to the scales weighing a total of 134.14 lbs. Thanks go out to our couples for their great fish care providing for another 100% release rate. John & Donna Branstetter took the win with a 5 fish limit weighing in at 14.86 lbs. Donna also took Ladies Big Bass with a 3.96 lb. largemouth.
John and Susan Mills come out on top on Lake Hartwell
Big Water Marina and Campground hosted the South Carolina Couples tournament on Lake Hartwell in a big way. Approximately ten days prior to our tournament, BWM felt the wrath of Mother Nature with damage from high water and 12 hours of 40 mph winds and rain. Their fuel dock and courtesy dock both received substantial damage. The courtesy dock had to be removed, repaired and reinstalled prior to our blast off. We'd like to thank Darlene and the guys at BWM for their commitment to ensuring the facilities were ready for our event. Not only did they make the necessary repairs in time for our event, but they also took excellent care of our anglers. They had coffee, propane heaters, and golf carts for our use and even provided pizza at weigh in. We couldn't have asked for a better host.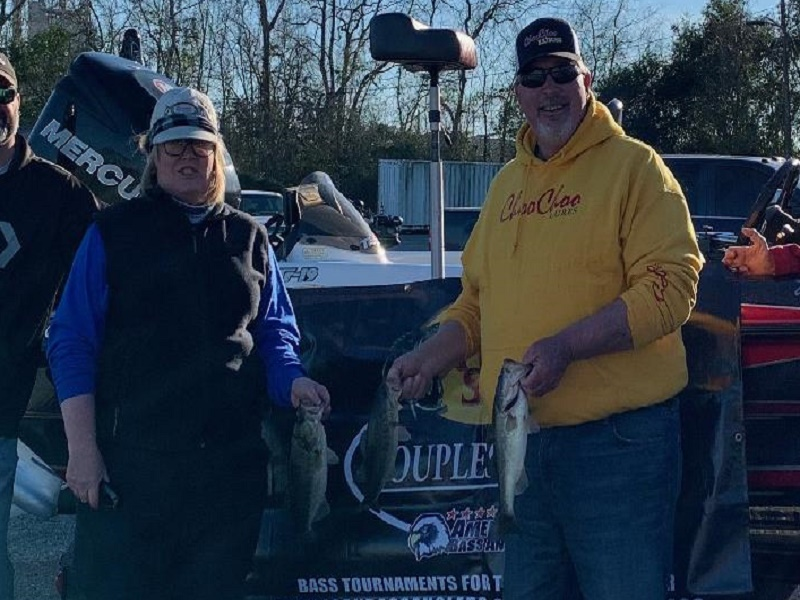 Barry & Romaine Descaro win on Savannah River despite Tough Conditions
We all expected Floodwaters on the Savannah River to make for a tough bite. Therefore, we were not surprised that only 3 of the 7 couples brought fish to the scales. Barry & Romaine worked hard to bring 3 fish that weighed in at 4.90 lbs. to win $315 for 1st Place. Barry anchored their winning bag with men's big fish at 1.93 lbs.
South Carolina Couple's Division Cancels 11/16 Tournament
For the safety of all our anglers, the South Carolina Couple's Divison 11 event on Lake Murray scheduled for November 16th has been canceled due to the predicted weather.
For more information on this Division, event or any future event please contact Tom Bancroft at (843)697-6232.
Jim & Julie Collins win the final SC Couples Tournament of the 2019 Season on Clark's Hill
Overcast skies and intermittent showers did not discourage the twenty-one teams that competed in the final tournament of the South Carolina Couples trail held June 8, 2019 on Clark's Hill. The cloud cover and shower kept the temperature bearable for this time of year. Most of the fish brought to the scales were caught on top water baits or Carolina rigs.
William and Tricia Cain win on Lake Russell
The 9th South Carolina Couples tournament of the 2019 season was held May 18th on Lake Russell. There were 19 teams competing, bringing a total of 88 fish, weighing 146.24 lbs.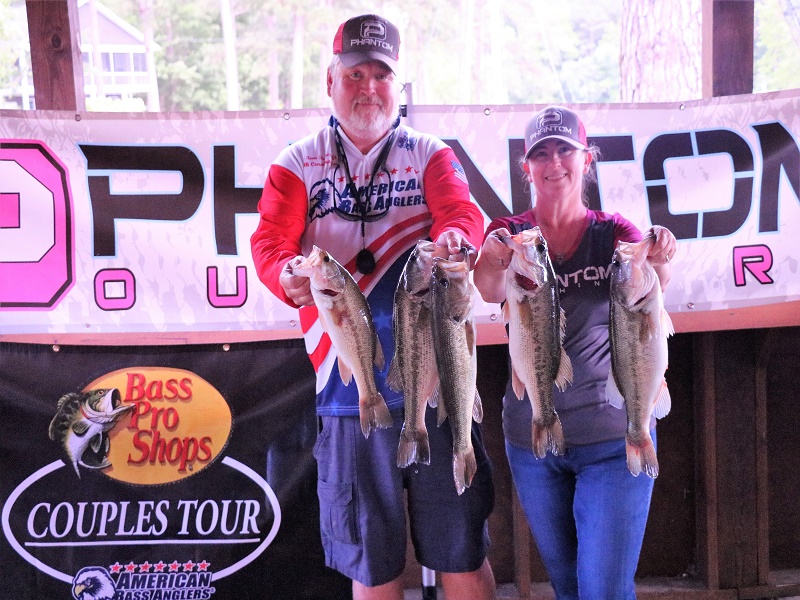 Tom and Missy Bancroft win on Lake Wateree
The Lake Wateree tournament was the 8th event of the South Carolina Couples trail which was rescheduled from December and held this past Sunday on May 5, 2019 out of Clearwater Cove. Lake Wateree hasn't been on the couples tournament schedule in a number of years. We are looking forward to returning next year and building a following on this beautiful mid-state reservoir.
Mike Blalock & Deanna Phillips take 1st on Santee Lakes
It's been many years since the couples have competed on the Santee Lakes. Everyone was anticipating the big bite to be on. However due to fluctuation in the weather and pulling of water the bass seemed to be in transition all week. A total of 18 teams fished the tournament bringing 41 fish to the scales for a total weight of 127.34 lbs. with only 4 limits of fish caught. Anyone that fishes the Marion and Moultrie waters knows this is not the expected results this time of year. In the weeks leading up to our tournament, it took 25 to 30 lbs. to win and a minimum of 20 lbs. to cut a check. One of our couples caught an 11.02 lb. largemouth during practice prior to the tournament.
Toby & Michelle Keisler take the Lake Murray Tournament with 21.11 lbs.
We had 23 teams join us on Lake Murray for the 7th tournament of the South Carolina Couples trail. The overcast conditions made it hard to fish for the spawners but with a good set of glasses and a little patience you could find a few good fish still bedding on stumps and docks in the deeper water. Others found the herring bite was just getting started in the post spawning areas of the lake. Leading to a good weigh in with 89 fish brought to the scale with 87 released alive for a total weight of 258.62 lbs. That's a 2.91 pound average for Lake Murray.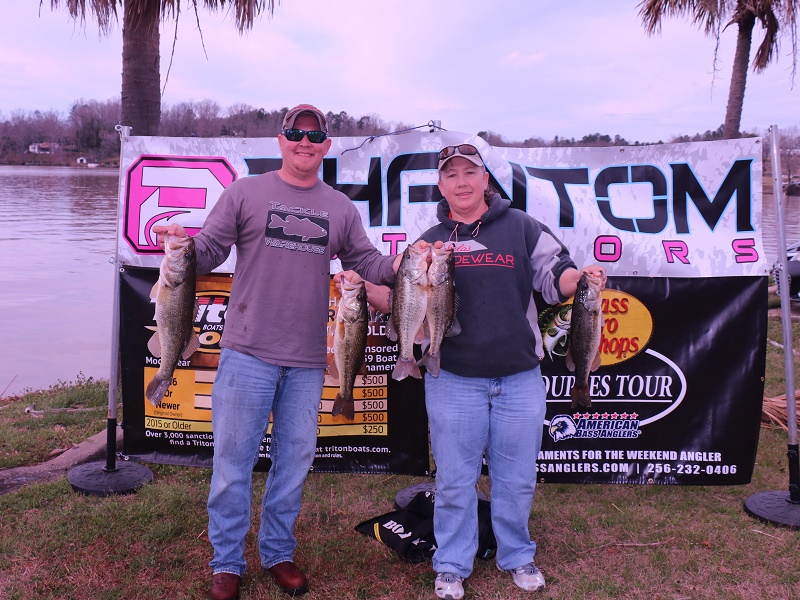 Jaris & Sherri McGee bring it for a win on Lake Greenwood
We had a field of 20 teams competing for the 5th tournament of the South Carolina series held on Lake Greenwood March 2nd. A good portion of the lake was muddy due to recent rainfall with temperatures in the range of 55 to 58 degrees. A total of 65 fish were weighed and released for a total of 140.50-lbs. Majority of the fish caught came on A-Rigs, crankbaits, spinnerbaits and chatterbaits down the lake where the water was a little clearer.
Jaris & Sherri McGee brought 5 fish weighing 15.79-lbs. to the scales to secure 1st place. Jaris had a kicker weighing 4.77-lbs for men's big fish.
Mark Gibson and JoeAnn Ivester take the win on Lake Keowee
The 4th tournament of the South Carolina series was held on Lake Keowee on February 16th. We enjoyed a nice mild day in February with a lite rain to start the day and bluebird skies in the afternoon. The water temps were in the range from 56 to 65 degrees depending on the area of the lake you were fishing. We had a good turnout of 26 boats. While it was tough for some of us, others had a good day… That's fishing.
South Carolina Couples Cancels 12/8 Tournament
The South Carolina Couples Division 11 has canceled the 12/8 tournament scheduled for Lake Wateree. This decision has been made due to falling lake levels, the ramp and the launch site is inaccessible. We apologize for any inconvenience this has caused and look forward to seeing you all at the next tournament.
Dale and Victoria Goff Collect 2nd Win of 2019 Season
Our 2nd tournament of the South Carolina series followed up the AFT Championship where the last day was canceled due to weather conditions. We'd like to thank the 13 teams that braved the windy conditions to compete on Saturday.